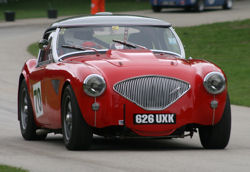 words by Gerald J. Zammit – VGPF Board Mmmber and car enthusiast
This 1953 Austin Healey 100 was bought directly from the Healey Export Department and driven to Spain by its first owner, a sergeant in the US Air force. After his tour of duty was over the car was shipped to Chicago, Illinois, USA, and over the ensuing years found its way to California.
It was converted in the winter of 1963/64 to Chevrolet power and running gear by Greg Greathouse, one of the doyens of US He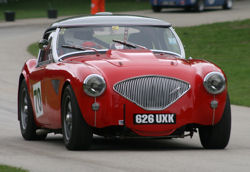 aley V8 conversions. Healeys were being converted as they were no longer competitive in the capacity based SCCA sports car classes of Southern California and Florida, as Austin's 2,660cc 110 bhp unit struggled against the likes of Maseratis and Ferraris in the up to 3.0-litre classes.
The 626 UXK is essentially the same type of Chevy Healey which was so successfully campaigned by Forrest 'Bud' Dana in Havana, Cuba, and Nassau, in the Bahamas, during the winter of 1960. Bud led the 1960 Nassau 250 in his Healey V8 legend against all competition cars, such as Lotus 19s and Ferrari Testarossas, until a gearbox problem reduced him to three gears.
Recent research has indicated that the 626 UXK is now the third oldest surviving Healey V8 conversion, as many cars have been re-united with their original engines as Healey values have continued to escalate in price. A little known fact is that of the 50 custom AH100S racing versions, now valued in the region of £400k+, at least eight have had V8 conversions in the past.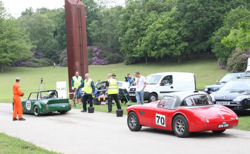 This car was repatriated after 40 years of competition in the USA. It took part in various events ranging from sprinting and auto-crossing at County Fairs and drag racing. It was then completely rebuilt by marque specialist Pete Farmer Performance Racing over a period of 14 months and has since returned to hillclimbing, sprinting and drag racing. A blown engine at the Castle Combe track two years ago and subsequent rebuild led to the current performance figures of power: 429 bhp @ 5,000 rpm; torque: 469 ft. lbs. @ 4,450 rpm; weight: 1,050 kg; 0-60 mph (0-96.6 km/h): less than 4.0 seconds; top speed: 160 mph (257.5 km/h), but Healey aerodynamics tend to have a say in it.
Last season included the inaugural Crystal Palace Sprints, Isle of Jersey Festival Sprint and Hillclimbs, Gurston and Shelsley Walsh Hillclimbs and various club competitions. Last August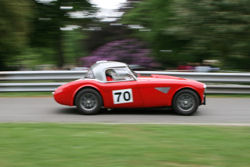 the 626 UXK was also chosen as one of the 20 or so vehicles to be shown at the prestigious Members Day of the Goodwood Road Racing Club at Goodwood, home of the world-famous Festival of Speed and Goodwood Revival.
This year, Ian, who has been competing in Sprints and Hillclimbs since 1995, will be competing in the Valetta Grand Prix, besides the Festival of Motoring, Jersey, and other events. Ian has also been invited to enter the Cholmondeley Pageant of Power and holds an MSA Nat. B Speed license.
We look forward to seeing Ian Osborne in Malta with his 1953/64 Chevrolet Healey 'Greathouse Special' a.k.a. FRANKENHEALEY, where he will be in the E Class – Exception Vehicle. This class caters for out of period modifications to a historic vehicle with proven identity, which has been made using parts or technology not available "in Period".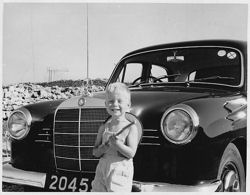 – Tim Slade – Malta Connection and the return of his 50yr old Mercedes 180
If you are a car enthusiast and wish to share some experiences with us, send