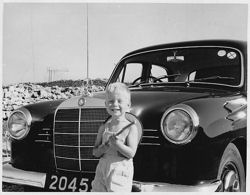 words by Gerald J. Zammit – VGPF Board Member and car enthusiast
I was contacted by Tim via e-mail. He related a fascinating story about his dad's Mercedes 180 saloon and his family's relationship with Malta shortly after coming across news about the VGP Event.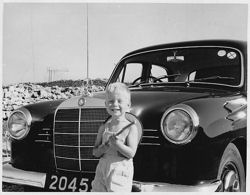 Not long after Tim was born his father took a secondment to work for the Admiralty in Valletta. This was in 1958. Tim's sister was born in Malta the following year.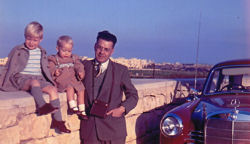 Like many ex-pats, his dad took advantage of the tax situation and bought himself a new car, one he would not have been able to afford back in England. It was ordered through Auto Sales Ltd, Msida Road, Gzira, at the time. In March 1960 he went to Stuttgart and collected his brand new Mercedes in person, and brought it back to Malta. Tim still drives that car today.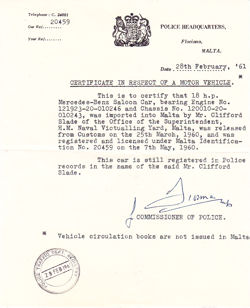 Tim's father passed away some 33 years ago, and the car has been at Tim ever since. It was the very first car he ever drove, up on the army ranges when he was only 14. After his dad passed away, he didn't have the resources to keep the car running, and it went into hibernation, back in the garage where it lived in his parents' house since 1961. In 2000 Tim decided to do something about it.
Back in 1961 when the Slade family left Malta, they took an extended holiday on their return to England. The car was restored and the journey once made as a child some 40 years earlier was repeated when the family travelled from Palermo, up through Sicily and Italy. Of course, that original journey had started in Malta. Palermo is still the closest Tim has been to Malta in 50 years.
The story of this family journey appeared in Classic and Sports Car magazine ten years ago, and that was the start of Tim's writing career with car magazines. Tim is also an artist and illustrator.
The car is now well known, having been featured in many magazines. It has also spent several winters on display at Mercedes Benz World in Brooklands, and has been a regular Goodwood Revival 'taxi'. It's a regular Concours winner and, according to Tim, it is one of the best RHD Mercedes 180 in existence.
Now one can understand why Tim would love to enter the Valetta GP. He is determined to make it to Malta this May to run his Mercedes Benz back on our Maltese soil.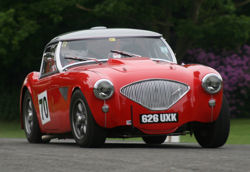 If you are a car enthusiast and wish to share some experiences with us, send
an email on communications@maltamotorsport.org