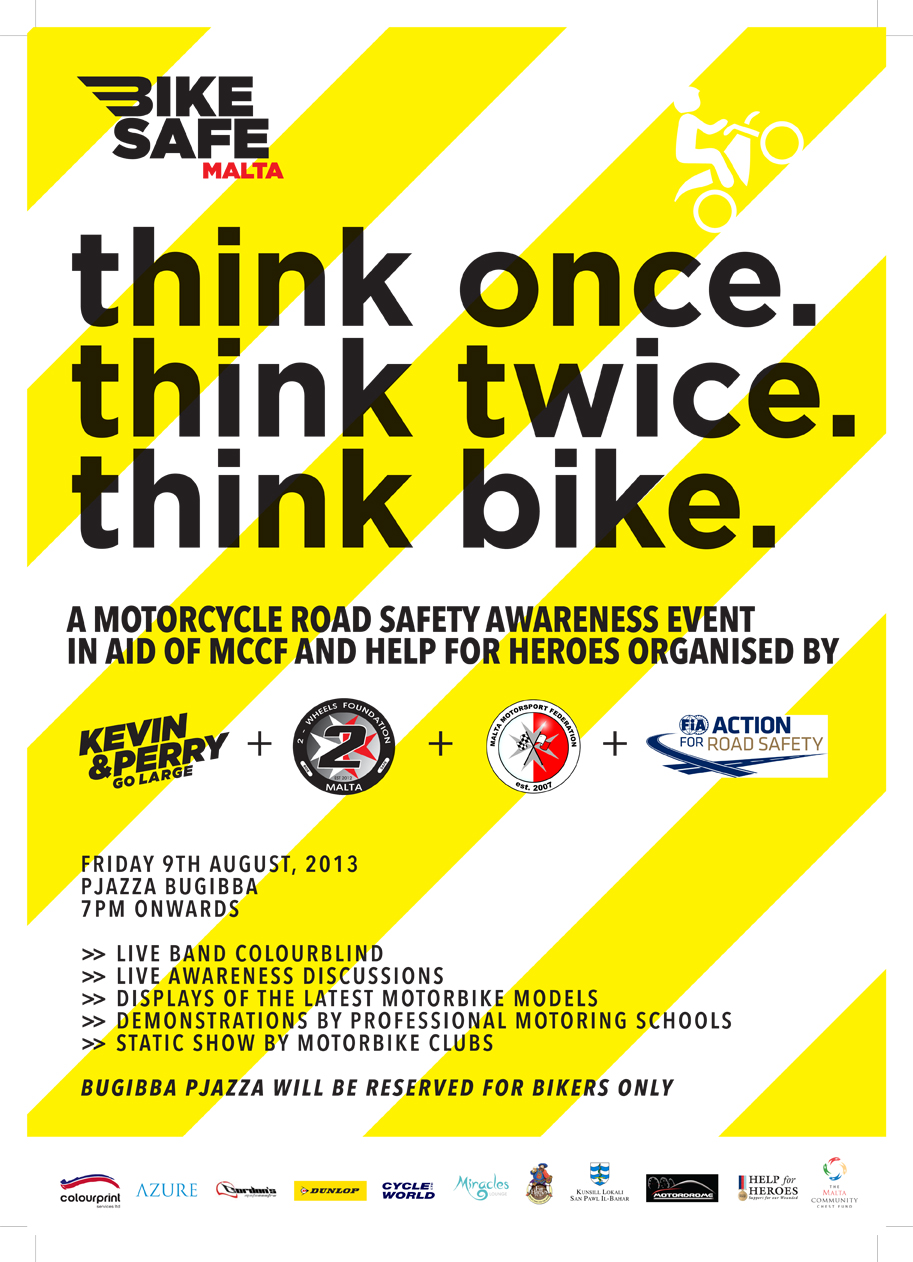 Kevin & Perry, the Two Wheels Foundation, FIA and Malta Motorsports Federation joined forces to launch Malta's first national motorbike safety campaign.
The aim of the Campaign is to raise awareness about Safety on the Maltese roads, ranging from general road disciplines, courtesy, appropriate safety clothing, riding skills and bike maintenance in a bid to save lives and promote road sense. The campaign is not limited to bikers but also to drivers who need to be made more aware of motorbikes.
The event was the brain child of Kevin Camilleri & Perry Newton who have successfully completed the arduous rally from Paris to Dakar in October last year. This year they are crazy enough to be taking on another challenge. They will be participating in the Turkish rally, Transanatolia! (www.transanatolia.com) and thus have extensive biking experience.
With the support of the Two Wheels Foundation, FIA and Malta Motorsports Federation, the campaign is being launched with a suggestive reminder of how important it is to consider motorbikes when driving. Malta has unfortunately suffered from a number of serious motorbike related accidents, including some tragic fatalities in the last months, a number that seems to be on the rise. The causes are various but can mainly be categorised in the following three branches:
Lack of traction, caused by bad roads and slippery road condition;
Rider abuse, taking risks above the limits of his or her motorbike and riding environment or skill; and
Negligence, abuse or error of drivers using other vehicles resulting in a situation of a collision or injury to the biker.
All accidents are further aggravated when the rider is not wearing the appropriate riding gear. Motorcycle safety gear has grown dramatically in sophistication over the last years. Airbag suits, high-tech materials and even heads-up displays are being developed to increase the safety and survivability of the rider and some of which are already available on the market.
There are unfortunately limits of how far technology can go. Just as important as proper rider gear is the training, awareness, and skill needed to ride safely which is the exact target of this campaign.
Kevin & Perry and the Malta Motorsport Federation will be launching the campaign officially on the 5th August from San Anton Palace in the presence and full support of the President of Malta, H.E. George Abela. The campaign will have multiple streams, including a strong internet presence in Facebook through "Think Once Think Twice Think Bike" as well as SAFETY AWARENESS DAY for bikers and for drivers on the road being held on Friday 9th August in the Bugibba Piazza. The main activity being held at Bugibba will kick off from 6PM onwards. Public dignitaries, the Police Force, national press including journalists and TV representatives will be attending this event, giving more exposure to the Awareness message.
On the main stage, in the centre of the piazza, there will be discussions led by TV presenter Mr. John Bundy for the first hour. Mr Bundy, a biker himself will be discussing the recent road traffic accidents which claimed several lives of bikers in the past few years and will be sharing information with the public present. There will be a 'test area' monitored by Cycle World Motoring School where tips on effective breaking and cornering will be taking place. Licensed drivers over 18 will be allowed to participate.
During the event all Bugibba square will be closed to all traffic and will be declared as Bike Zone ONLY. Public discussions will be held with various personalities and experts on traffic issues. Live music will follow from the popular Maltese band Colourblind as well as on-going clips on bike safety will be displayed on big screen.
The Safety Awareness Day will also be a charitable event bringing together the support by several companies and agents including La Valette VIP Lounge, Fapi Motors, Muscats Motors, Gasan Zammit, A & M Motors, Cycle World Motoring School, Historic Motorcycles Malta, RCI, Interval International, Torque Racing, Rally Raid UK, Dunlop Malta, Azure, Attrans, Colourprint Malta Ltd, Fat Harry's Pub and Miracles. Proceeds raised by the event will be donated to the Help for Heroes and Malta Community Chest Fund.
The public and especially bikers are called to attend this event and to give a strong message in support of safety on the Maltese roads.