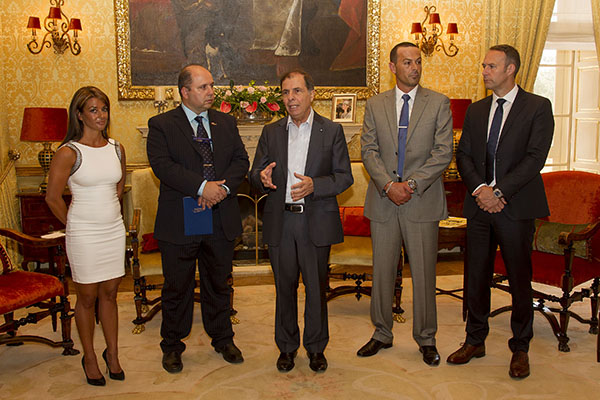 President George Abela today greeted Kevin Camilleri and Perry Newton on a Courtesy Call at San Anton Palace which served also to launch the "Think Once Think Twice Think Bike" event.
Kevin Camilleri and Perry Newton together with the support of the Malta Motorsport Federation, Two Wheels Malta Foundation and St Paul's Bay Local Council are organising this first Motorcycle Road Safety Awareness event as part of the FIA Action for Road Safety campaign.
The objective of this event is to bring bikers and enthusiasts together, at Bay Square in Bugibba (which will be reserved for bikers only) to promote a road safety message.
Its aim is to raise awareness about Safety on the Roads; everything from general road disciplines, safety wear, riding skills, and bike maintenance.
Kevin Camilleri said "It goes without saying – we hope that this will be the start of a yearly event"
"The total number accidents on Malta's roads in the first quarter this year was 3,401, down 8.5% on the same quarter last year. However we want to create more awareness so that these figures decrease even further for all of Malta's avid drivers and believe this event will help do just that" said Perry Newton.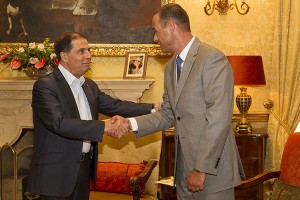 More than 300 Bikers have confirmed their participation in this activity which is a first for Malta. On the main stage there will be discussions led by TV presenter Mr. John Bundy who is also a biker himself discussing the recent road traffic accidents which claimed several lives of bikers in the past few years.
"The response to this initiative and the support from local agents and the local police forces has been incredible." said Tonio Cini, President of the Malta Motorsport Federation. "Our objective is to create more awareness and reduce the number of accidents on the Maltese Roads".
Grazielle Camilleri, the Event coordinator and Marketing Agent of the event reiterated that "It has been a challenge to put this all together but since it is a philanthropic activity in aid of The Malta Community Chest Fund, people have been really helpful for which we are very grateful."
President Abela thanked all those involved for this initiative and appealed that everyone should be more responsible including the pedestrians and concluded by saying that we should control ourselves and be more patient on our roads.
The event on Friday 9th August 2013 will start from 19:00hrs with the arrival of bikers, and will finish around 23:00hrs. The activity is supported in different ways by several companies and agents including La Valette VIP Lounge, Fapi Motors, Muscats Motors, Gasan Zammit, A & M Motors, Cycle World Motoring School, RCI, Interval International, Torque Racing, Rally Raid UK, Dunlop Malta, Azure, Attrans, Colourprint Malta Ltd, Fat Harry's Pub and Miracles. The popular local rock band, Colourblind will be performing on the night.
During the meeting with President George Abela it was also announced that Malta's duo Kevin Camilleri and Perry Newton, who have successfully completed the arduous "Heroes Legend" race to Dakar in 2012, have signed up for another challenging rally this year. This time it will be the "Transanatolia" Rally 2013 between August the 31st and September 7th.
Turkey's premier rally-raid is an event spread across 7 days. Participants from across the globe will be competing in a variety of challenging terrains suitable for rally-bikes, off-road vehicles, quads / buggies and trucks
Starting and finishing in Antalya, Kevin and Perry will be crossing over the Taurus Mountains into Cappadocia, following a 2500 km route that includes an average 300 km long special stage each day, a mix of mountain/sand / river crossings and lots of rocky technical sections.
BikeSafe is a motorcycle project that is being run for the first time in Malta in August but a firm fixture on many European countries backed by local government and police forces. The main aim is to reduce the number of bikers being hurt on the roads. We think that riding should be fun and by improving skills, knowledge and hazard awareness it will hopefully make riding safer and more enjoyable.