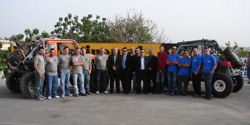 All Wheel Drive Club Malta together with Malta Motorsport Federation and with the support of Kunsill Malti ghall-iSport presented the AWDC Team Malta Croatia Trophy who will be participating in one of the most daring events in the world, The Croatia Trophy, held in the forest of Vojnic in Zagreb, between the 29th April and 7th May.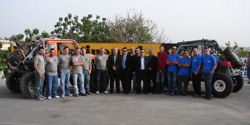 This year it is the 10th anniversary of this Trophy, organised by the Auto Klub 92 and participants are expected to tackle mountains, forests, marshlands and deep river crossings.  This trophy can be compared to the European Cup of Off Road driving as currently over 90 teams registered from all over Europe will be competing in this event.
The participation in such an event would not be possible without the help and assistance received from the Secretariat for Youth and Sports, Kunsill Malti ghall iSport, and the Malta Motorsport Federation.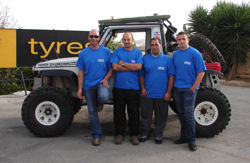 The All Wheel Drive Club Team will be composed of two vehicles that, along with their respective support crews, will be leaving on the 26th April via a ferry to Livorno and following with a 12 hour drive to Zagreb.
Kevin Mallia and his co-driver Derek Saliba will be participation in the trophy with their Suzuki Special.  This vehicle, is powered by a 3.0litre turbo diesel engine, has 3 electric winches, with the front one being a dual motor setup, differential lockers front and rear, 35inch tyres, and up rated suspension with coil over shock absorbers.  This vehicle was upgraded locally by Kevin and his support crew and took one and a half years to be finalised.  In order to test their vehicle Kevin and Derek have competed both locally in the AWDC events as well as in an international event with the same AWDC in Cassibile, Sicily earlier this year.  In Croatia, Kevin and Derek will be supported by Josmar Camilleri and Ryan Buhagiar.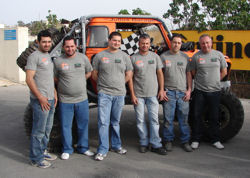 Maurice Farrugia and Mario Xuereb will be competing in their Land Rover prototype with a 2.8 litre turbo diesel engine. This vehicle is equipped with full hydraulic steering, 37-inch tyres, three winches – at the front, at the rear and in the centre of the vehicle, portal axles, as well as having a departure and approach angle greater than 100 degrees, a modification done especially for events such as the Croatia Trophy.  Maurice and Mario are no strangers to this event, having already competed in this event in 2007, where after battling for the 6th position they had to be contented with the 12th position, after having to retire from the last part of the race following engine trouble. Both have competed in a number of foreign off-road events. Maurice competed in Belgium, Italy, and while Mario competed in Scotland, Wales, England, and Sicily.  Supporting Maurice and Mario are Joseph Abdilla, John Zammit, Roderick Azzopardi, and Massimo Grima.
Ian Cilia Pisani, AWDC President said, "Without doubt, we are sending a team which should make our club and country proud of. Both teams have been working day and night to be able to participate in such an extreme event. The preparation on their vehicles is of the highest level which normally we are used to see in foreign vehicles but our members have all this as a standard"
Tonio Cini, MMF President said, "Thanks to the dedication of the All Wheel Drive Club, and commitment of its members, MMF is proud to be supporting this Team to represent Malta in this very demanding event, the Croatia Trophy. Malta will be amongst 17 countries, who without doubt will be showing their top driving skills to compete and try and win this most prestigious Trophy during the 9 days of event. The details of preparation in these 2 purposely built vehicles is a showcase for our local engineering skills. A Maltese product to be proud of."
Bertie Muscat, Deputy Chairman, Kunsill Malti ghall-iSport said, "KMS will be supporting this team, since KMS is the entity that is there to support all types of sport and not a particular sector only."
The AWDC Malta, the Malta Motorsport Federation and il-Kunsill Malti ghall-iSport wish the best of luck to these two crews and their supporting personnel.