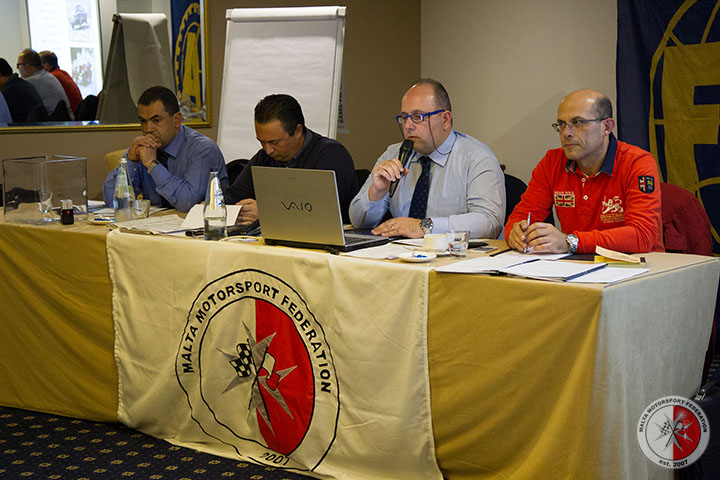 Mr. William England is the new treasurer of the Malta Motorsport Federation. England was declared Treasurer during the Federation's Annual General Meeting which was held on Thursday 28th November at the Radisson Blu Resort in St. Julian's after the current post of treasurer was vacant by Mr. Pierre Sammut who decided to step down following three years in the role.
Mr. England is director of England Group Ltd, England Insurance Agency and WJ England & Son Ltd. While his business expertise is primarily IT and Telecom-communications, he also has a strong accounting footing in the finance and accounting side stemming from his insurance involvements. From the age of 9 has nurtured a passion for motorsport primarily with American muscle cars including their restoration. Today the Porsche brand is his second passion. William is a regular visitor and organiser of driving events in exotic cars on world renowned tracks.
During the Annual General Meeting, MMF President Tonio Cini presented the President's report in which he highlighted the various projects the federation undertook in the past year. These included the Driver and Officials Training courses in collaboration with the FIA Institute with the collaboration of MSA UK, The Think Once, Think Twice, Think Bike! Road Safety awareness event held in summer at Bugibba which falls part of the FIA Action for Road Safety campaign and the presentation of the Road Safety & Motorsport Facility at Hilton last February. Tonio Cini gave an overview of the other long term projects that the Federation is working on, such as continually striving to receive promised funds and securing more funding, as well as the current status of the Road Safety and Motorsport Facility including detailed plans for making this ambitious race track project a reality. Mr. Cini, reiterated that the Federation is waiting from the government to take a decision with regards the land allocation. It is imperative that such decision is taken the soonest possible, as any further delays are causing inconvenience to our members where they can practise the sport in a safer environment. Moreover, such project will help to reduce fatalities from the roads.
Cini, on the other hand thanked Pierre Sammut for his impeccable work whilst welcoming William England, explaining that he has already been helping the federation for a number of years and looked forward to further strengthening the relationship in his new post as MMF Treasurer. Mr. Pierre Sammut thanked the federation and thanked everyone for the friendship over the past three years.