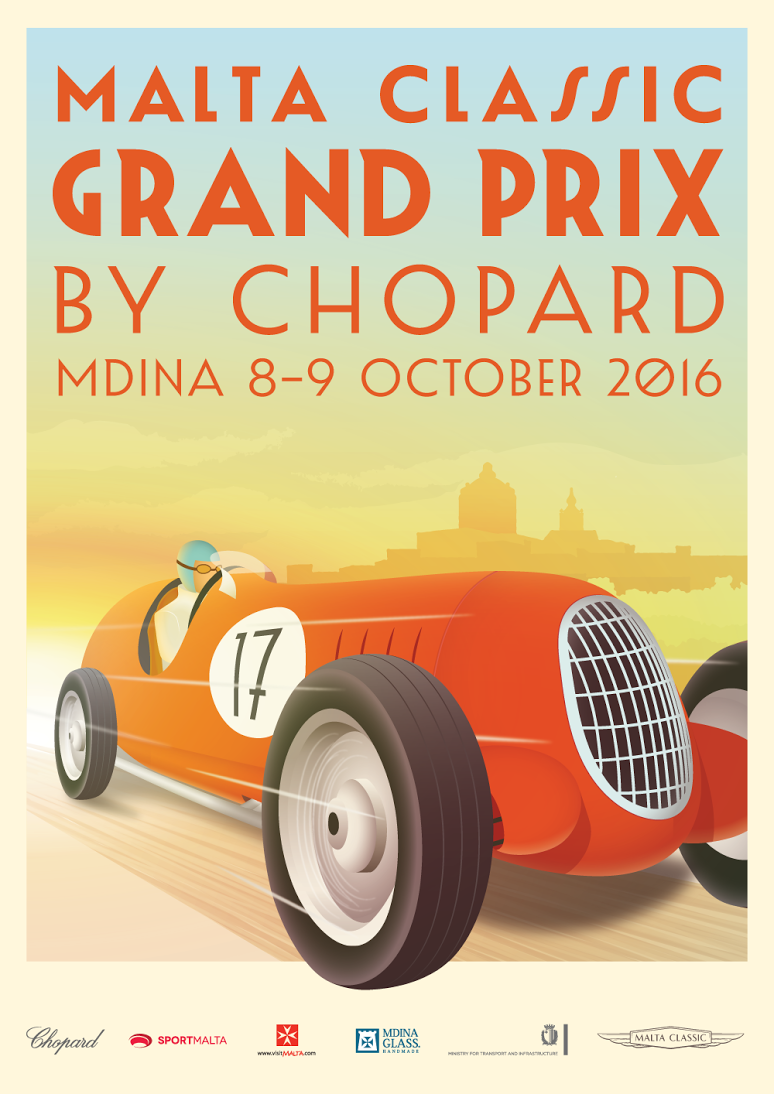 The Malta Classic (formerly the Mdina Grand Prix) today announced its 2016 programme, including a new entertainment programme and amenities to enhance this annual celebration of classic cars and vintage style. The announcement was made today at the Corinthia Palace Hotel and Spa, where the Honourable Minister Edward Zammit Lewis and Honourable Chris Agius voiced their support for this motorsport event.
The Malta Classic is a four-day classic car event set against the historic background of Mdina. Over 60 competitors from Malta, Italy, the UK, Switzerland and France will compete to win the grand prize—a Mille Miglia Chronograph by Chopard. This year's grid includes a rare 1960 Ferrari 250 GTO SWB, a 1953 Alfa 1900c Sprint by Touring, a 1935 Talbot PL4, a 1954 Jaguar XK150, a 1960 Triumph TR3 A, a 1935 BSA Scout, a 1938 Alvis 12/70 Special, a 1934 Riley TT Sprite, a 1927 Chevrolet Special, a 1963 Porsche 356 Coupe and a 1974 Mini Marcos.
One week prior to the Malta Classic weekend, the Malta Classic Scrutineering​ is hosted at at Pjazza Tigne, Sliema on the afternoon of Saturday 1st October. This event is open for public viewing of cars on display. Scrutineering takes place primarily to confirm that the participants' cars comply to the stringent safety standards set by the Foundation for the event. It also ensures fairness in all Malta Classic Grand Prix races, as drives keep their eye on the prize—a Mille Miglia Chronograph by Chopard. On Thursday 6th October the Malta Classic officially opens with the Malta Classic Hill Climb by Thomas Smith.​ This event is a pure adrenaline rush of cars racing to climb magnificent Ta' Pennellu hill overlooking Mellieha.
On Friday 7th October, the Malta Classic Concours d'Elegance by Mdina Glass celebrates the ​power and beauty of classic cars in the heart of Mdina. Select car collectors are invited to unveil true automotive gems to the delight of visitors. This year, the Concours shall be hosted by actor Colin Fitz. Cars will be judged according to various criteria, and trophies designed and handcrafted by Mdina Glass will be awarded for "Best Dressed Participants,"" "Elegance" and "Unrestored Original Condition," amongst others. Spectators are encouraged to participate in the spirit of this event by attending in period dress.
On Saturday 8th October the Malta Classic Grand Prix by Chopard begins. Cars are put to the test ​on a track of tight bends, sweeping curves and inclines below Mdina's fortified walls. Fast, accelerating and beautiful—The Malta Classic Grand Prix by Chopard is loved by drivers and spectators alike. On Sunday 9th October 2016 the real racing begins. Packs of 8 to 10 cars take to the circuit in a thrilling race to the finish line, as the unforgiving nature of the Malta Classic circuit brings out the very best of performance by both drivers and their classic racing automobiles. The winner of the Grand Prix will receive the coveted Malta Classic Trophy, designed and handcrafted by Mdina Glass, and a limited edition Mille Miglia Chronograph by Chopard, exclusively available at Edwards Lowell Boutiques in Valletta and St Julians.
New at the 2016 Malta Classic Grand Prix by Chopard is a delightful exhibition area in the Mdina Ditch​, offering free games for children, vintage food trucks, cocktail bars, and even a vintage barbershop! A live music stage in the nearby Tomba Gardens will add to the event's vintage vibes with performances by a jazz duo, 60's quartet and swing quintet. A free shuttle will transport spectators from exhibition areas to the circuit, whilst those arriving in pre-1980's classic cars may make use of the free Classic Car Park, conveniently located on the Mtarfa Bypass.
The Malta Classic is sponsored by Malta's leading luxury and lifestyle brands, including Chopard, Mdina Glass, Thomas Smith, Shell, BMW, Sullivan Maritime, Farsons, Attard & Co., The Point, Pjazza Tigne, Good Earth, Busy Bee, Airswift Couriers, Atrium, Billboard Advertising, Karl Borg Events and Alberta. This event is also made possible by the support of Sport Malta, the Malta Tourism Authority, Mdina Local Council, Rabat Local Council, Mtarfa Local Council, Mellieha Local Council and Transport Malta.
INFORMATION FOR SPECTATORS:
The Malta Classic weekend is open to the public free of charge.
Triq l-Infetti, Rabat, is allocated for public parking. Free transport to and from the circuit and paddock will be in the form of complimentary shuttles.
A free Classic Car Park is reserved for owners arriving in their pre-1980's classic cars. This is located on the Mtarfa Bypass and serviced by complimentary shuttles.
A limited quantity of official Malta Classic merchandise, including a collector's set of posters, is available to purchase.
Vintage food trucks and cocktail bars offer a variety of refreshment options for spectators.
The paddock will be open for free public viewing from 4 to 5 pm each day. Paddock access at all other times is reserved for paddock ticket holders. A VIP section offers the best circuit views. A very limited number of VIP tickets remain. VIP and paddock tickets can be purchased at maltaclassic.com