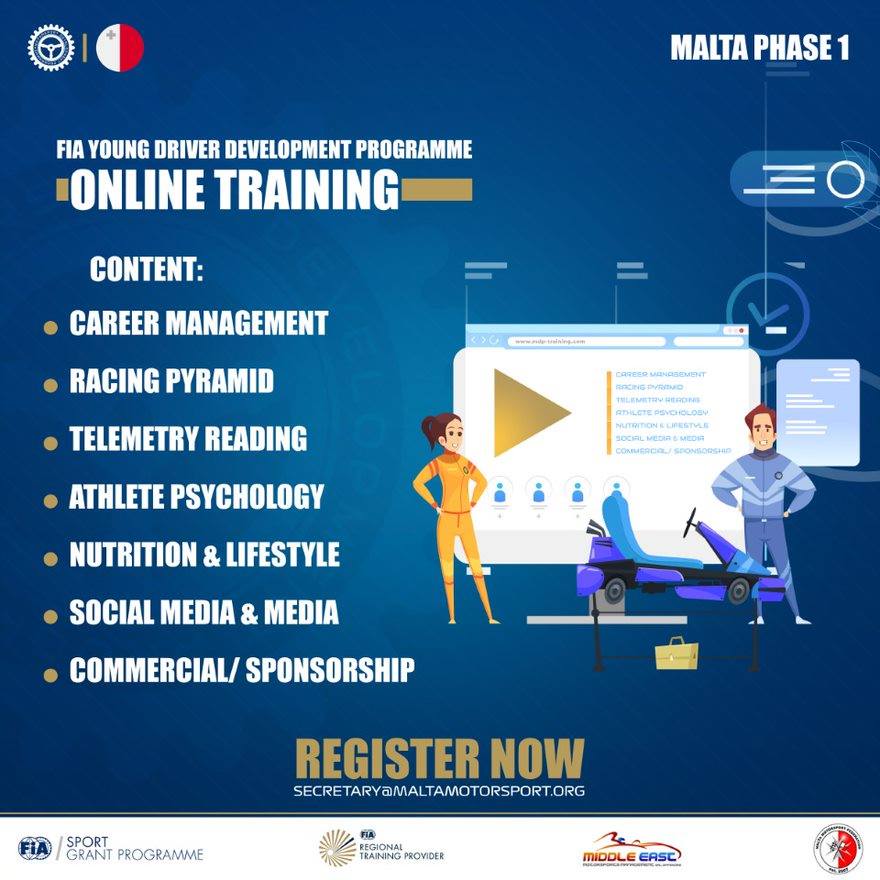 The Malta Motorsport Federation have been working closely with FIA on a new initiative during this time of COVID-19 impact, to create a online programme for the Young Drivers Training Programme (YDP) which is co-funded 80% by FIA.
MMF President Tonio Cini stated that MMF was proactive and took this great new initiative which will be complimenting the 'new norm' that we are leaving in today. The programme is a pure Talent Search by FIA to find new motor sport talented drivers within the Maltese Islands. It will be open for all persons irrespective if they have no experience or not in motorsport and are between 8 years up to 25 years old. There will be a small nominal fee and the applications must be submitted by not later than Monday 30 th June 2020.
Parliamentary Secretary for Youth, Sport and Voluntary Organisations Clifton Grima, whilst thanking the Malta Motorsport Federation for their work, said that this programme is a great initiative which can be also used for the future. He stated that such a programme will give our Maltese drivers the necessary skills amongst which, Career Management and Nutrition and Lifestyle which will benefit them in such industry. He concluded that he is eagerly looking forward to see phase 2 in action once the pandemic Covid-19 is over.
Kate Robson Head of Sport Grant Programme and Accreditation for FIA, commended the efforts of Malta Motorsport Federation, and said that this programme will be opening new opportunities for the Maltese Drivers as it did for other countries.
Project Coordinator Khalili Beschir said that the YDP online will be divided in two phases, which was done with other countries and will fit Malta perfectly. Phase one will be an online assessment which will also give the coaches, trainers and the RTP team more time to the Maltese drivers, assess them for longer and give them more work to do until the FIA coaches would be able to travel to Malta hopefully in September to assess them in Malta and see who is really committed and works hard for the Sport. Top performers will be given a one week fully paid training camp with top international racing teams like ROTAX or with a F4 team.
The steps will be:
1- 12th June 2020 – Launch of the campaign for the YDP Malta Phase 1.
3- Drivers registration closes 30 th June 2020.
5- July – Launch of the online assessment/training program for YDP Malta Phase 1
The online training Via Zoom will have:
Meet and greet Session with ASN and drivers.
Classes/Workshops for drivers in Motorsport management, Nutrition, Fitness, social media and sponsorship. (Collective)
Fitness training sessions , bespoke for racing driver to train at home. (Collective)
One to one assessment with coaches.
Commercial/sponsorship presentations to be prepared by each driver, for when the training take place physically.
Media/Social Media courses.
Follow ups.
Registrations forms can be downloaded from this link:
https://maltamotorsport.org/wp-content/uploads/2020/06/YPD-ApplicationMaltaPhase-1.pdf