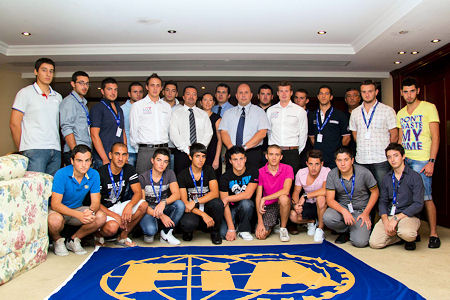 What started as a dream 14 months ago, is today a reality being lived here; the First MMF /FIA Institute Performance Master class sessions for young drivers, stated Mr. Tonio Cini, MMF President.
The Malta Motorsport Federation applied for a number of programmes from the FIA Institute to organize a number of courses, one of which was to educate our Young Drivers in improving their approachability to the sport. The MMF applications were well received and FIA Institute approved their funding. The Kunsill Malti ghall-Isport stepped in to cover up the remaining MMF 50 % contribution – namely 25000 Euros.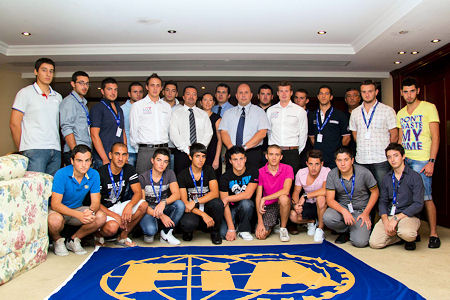 Photo from left to right (standing)
James Mamo,
Jean Paul Azzopardi, Kurt Camilleri,
Josmar Camilleri,
Greg Symes, Mauro Portelli, Bernard Vassallo, Stefanie Calleja, George Abdilla, Tonio Cini, Jack Fenech, James Worzencroft, Gianluca Dingli, Clayton Mizzi, Tonio Mizzi, Jeremy Darmenia, Branton Pulis, (low left) Jean Paul Sultana, David Galea, Keith Camilleri, Ryan Mangion,
Warren Pulis
, Zach Zammit, Matthew Gatt, Daniel Liam Bianco, Jacques Mizzi
Mr. Bernard Vassallo, KMS Chairman, stated that it was a pleasure for KMS to assist the MMF in this innovative project with high potential and together with FIA Institute make it possible to prepare Malta's young drivers towards a more professional approach. Sport, generally speaking, is not just about technique but demands sound preparation in other important factors such as psychological and physical preparation and even nutrition and anti-doping education. The KMS Chairman augured that this course reaps good dividends in the future and will have a ripple effect across the various motorsport disciplines on the island. MMF was working in the right direction for the progress of this locally very popular sport and Vassallo stated that KMS and even the Secretariat for Youth and Sport was always ready to assist the MMF in its visions for the future.
The Seminar was delivered by two coaches, one coming from the FIA Institute Excellance Academy and Motor Sport Association Academy an arm of MSA UK, Mr James Worzencroft, who is also a former Junior World Rally Driver Championship, and Motor Sport Association Academy coach, Mr Greg Symes who is also HQ Official at the British Formula 1 GP and Wales Rally GB.
The Performance Master Class Sessions were very well received by the 19 participants who came from the various motor racing disciplines represented by the MMF.