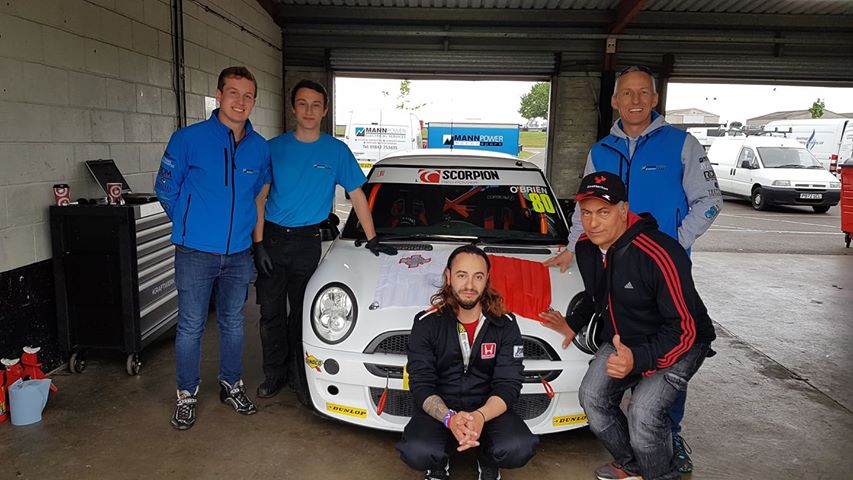 In the first weekend of June, together with his team Sciberras did some trials at Snetterton in the United Kingdom, racing at a Mini Challenge Touring Car Racing.
The goal behind this experience was to confirm that Sciberras got what it takes to be competitive at this level. The time required by Sciberras on this first experience was that of 2 minutes and 30 seconds, an exercise that is usually done in an empty track, however although Sciberras had other cars racing on the track, new and unfamiliar both track and car, as well as inclement weather he still manage to end up just 2 seconds away from his target.
Hopefully this is the beginning for another Maltese Racing driver to make a name for himself and to Maltese Motorsport in the United Kingdom.
Warren Sciberras sewwieq Malti jesplora territorji ġodda.
Fl-ewwel tmiem il-Ġimgħa ta 'Ġunju, flimkien mat-tim tiegħu Sciberras għamel prova f'Snetterton fir-Renju Unit, meta tellaq fil Mini Challenge Touring Car Racing.
L-għan wara din l-esperjenza kien li tiġi kkonfermata l-abilita ta Sciberras li huwa kompetittiva f'dan il-livell. Il-ħin meħtieġ minn Sciberras fuq din l-ewwel esperjenza kien dak ta '2 minuti u 30 sekonda, prova li ġeneralment issir f'ċirkwit vojt, madankollu Sciberras kellu karozzi oħra isuqu fl-istess ħin, nuqqas ta familjarizzazjoni kemm taċ-ċirkwit u kemm tal-karozza Mini, kif ukoll it-temp ma kienx favorevoli. B'dawn l-ostakli kolla kontra tiegħu Sciberras irnexxilu jispiċċa biss 2 sekondi 'l bogħod mill-mira tiegħu ta 2 minuti u 30 sekonda.
Dan jidher li huwa l-bidu għal sewwieq ieħor Malti biex jagħmel l-isem għalih innifsu u għall-Motorsport Malti fir-Renju Unit.
Oliver Attard