Tonio Cini was unanimously reconfirmed as President of the Malta Motorsport Federation during the Annual General Meeting held at Radisson Blu Resort & Spa Golden Sands, for the next 3 years. During this meeting, the members also approved a new structure of the Federation based on three Council pillars: Administrative, Sporting and Static Councils, to enhance the support to the various sporting disciplines which fall under the auspices of the Federation.
Tonio Cini, who was first elected President in 2008, thanked the Federation members for this strong confirmation and signified the importance of keeping on pushing the good practice of the sport together with all stakeholders. He was also grateful to all those who were part of the Executive Council throughout these past 6 years of his presidency, for their contribution towards the improvement of the sport.
During the General meeting, Cini stated that the Federation is looking forward to assist the Government for the forthcoming challenge of the Expression of Interest for the development of a Road Safety & Motorsport Facility, later on this year. He reiterated that the Federation is a strong believer that such International project is of great benefit for the country and could tip the €150 Million bracket investment. Such facility will educate and train new and experienced drivers in an appropriate road safety facility, thus helping in reducing the number of traffic and fatal accidents on our roads. This project will give new opportunities to various sport disciplines to have their training grounds and not necessarily motor racing and will generate a positive ripple effect on the local SMEs, thus effecting the Gross Domestic Product (GDP), while putting the country on international map within this sector.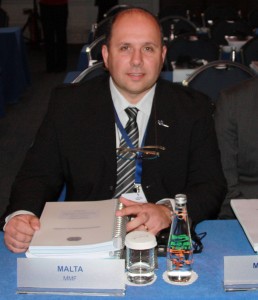 Tonio Cini, at the FIA World General Assembly in Doha, Qatar.
Cini, was last year appointed as a member of the FIA ASN Global Development Task Force by FIA President Jean Todt and Deputy President for Sport Graham Stoker and was also asked to contribute in the Malta Motor Recreation and Education Park Strategic Committee established by Hon. Chris Agius, Parliamentary Secretary for Innovation, Research, Youth and Sport and chaired by Dr. Carmel Cascun. He recently represented Malta in the FIA World General Assembly held in Doha, Qatar.