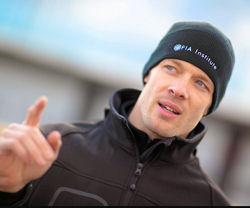 "This programme represents a major breakthrough in motor sport training. Even at the highest level, among some of my colleagues in Formula One, I have seen them relying only on their driving and not realising the potential that an initiative like this unlocks."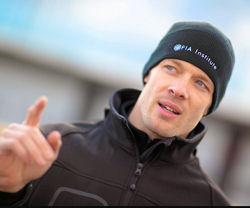 Alex Wurz, Performance Manager, FIA Institute Young Driver Excellence Academy
The 18 drivers participating in the three-day shoot-out for a place on the inaugural FIA Institute Young Driver Excellence Academy were put through their paces on the track, at the gym and in the classroom today.
Shortly after eight o'clock this morning, in the town of Melk, Austria, the race-spec BMW M3s were fired up for the first time, the track ahead of them doused with water and the first group of drivers sent out to control close to 350 horsepower on a surface shorn of grip. The shoot-out for the 10 Academy places had begun.
A Testing Day
The driving elements of the day included an examination of various skills behind the wheel. Reaction times were tested by hitting a kick-plate at 70kph, which pitched the car into a slide that first had to be gathered and then controlled as the drivers avoided obstacles in the skid area.
The ability to control a drift was tested next with the drivers having to demonstrate control of a skidding vehicle on slippery surfaces in both wet and dry asphalt conditions.Finally the drivers' had to demonstrate prowess at maintaining smooth driving and momentum through high and low-speed corners with the car only in top gear. The goal was to drive as fast and as safely as possible around the race track using the proper driving line and speed whilst utilising the engine torque effectively to support the vehicle's forward movement.
If the driving tests had provided the pleasure, the gym certainly produced the pain. Participants were put through a mixture of exercises to test muscle strength and endurance for the key areas associated with high performance motor sport athletes. This culminated with the beep test, an assessment of endurance which involves running continuously between two points before the sound of the next beep that speeds up over a series of levels.
Intelligence, common sense and the ability to multi-task came to the fore in the classroom, where the 18 drivers were set a variety of team assignments, including producing a paper aeroplane capable of flying 10 metres; solving equations for fuel loads; tying a bowline knot and answering complex questions. In total, there were nine separate activities with varying levels of points on offer for each, forcing the teams to consider time-management as well as problem-solving.
Robert Reid, Performance Manager, FIA Institute Academy, said:"Today has been a very busy day for the drivers. It's been tiring just watching them, especially when you consider they've done the fitness, the intensive team building and the driving in quick succession. But the drivers are all enjoying it and it's very interesting to observe people's characters coming out. We are still a long way from deciding who will be in the final 10 as some of the people who have done well in one driving test haven't done so well in another and the same for the fitness. It's an exciting process and I am already looking forward to seeing what tomorrow brings."
Alex Wurz, Performance Manager, FIA Institute Academy, said:
"Today has been really interesting. We have seen the drivers demonstrate their skills in the cars and their impressive levels of fitness. The next stage of the assessment will be seeing how they improve and how they cope with somebody being better and somebody being worse than them on day two. The drivers are at different stages of development in their personalities – you'd expect that when we have drivers from age 17 to 23 – but this shoot-out is all about demonstrating potential as well as the ability to learn and improve."
Richard Woods, Director General, FIA Institute, said:
"Today has been a great way to start the inaugural FIA Institute Young Driver Excellence Academy. The 18 drivers have all shown themselves to be very strong and competent in various areas, but this is just day one of what's going to be an extremely tough process. What we're looking for tomorrow is improvement on today, that's the key to this shoot-out – we want an insight into each driver's potential before we commit a valuable Academy place to them."
The FIA Institute interviewed three of the drivers after Day One.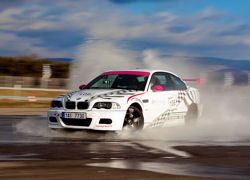 Richie Stanaway (19, New Zealand)
Kevin Abbring (21, Netherlands)
Molly Taylor (22, Australia)
Q: Why did you apply for the FIA Institute Young Driver Excellence Academy?
Richie Stanaway (RS)
: Motorsport NZ suggested I apply for the Academy and it's certainly an opportunity that I didn't want to miss out on. It's really important to get involved with the FIA Institute and I'm very happy to be here.
Kevin Abbring (KA)
: Because I want to know where I am standing among the other drivers and it helps to keep me in the picture. It is also helping me to discover my weak and strong points.
Molly Taylor (MT): I came over to the UK to throw everything I had into a motor sport career and an opportunity like this, to be part of a new initiative with the FIA Institute is great. I don't have a huge budget, so to have the potential to have access to people with so much experience is a fantastic way to try and further my career.
Q: What did you get out of today and what do you think of the Academy so far?
RS
: In the fitness sector, I'd never done such a thorough warm-up before and that showed in my results in the beep test. Usually, I suffer from some exercise-induced asthma and that preparation helped me get a better result than I normally would. Normally, my heart rate is around 190, but today I got it to 199 [bpm]. The isometric core tests and back tests we did today were all new to me, but I learned so much in just a few hours.
KA
: In the driving, I feel the handling of the car is not the problem for me. In the smooth driving, when you have to carry the speed with the car, I felt that sometimes I was steering too much. This is nice to me to learn and know, it's going to help me with rally competition in the future.
MT: A lot, actually. It's always good to be put in these environments, surrounded by so many competitive people; to be really thrown in at the deep end. For me, I'm very overwhelmed by the company that I'm in, so it's easy to feel a bit intimidated by that, but you can learn a lot from those people. You have to perform under pressure and that's everything you do on the stage in a rally.
Q: What does the future hold for you?
RS
: I need to focus on this year and the German F3 championship and then progress further in single-seaters in 2012. I've been living in Germany for the last 18 months and it's really helped to be part of the European racing series.
KA
: I think I will drive in the Intercontinental Rally Challenge, probably in a Mitsubishi Lancer in the new R4 category, this year. If I can find some more budget I would like to go to the WRC, but for now that's not possible. I did the Gymkhana Grid event with Ken Block in America last year. That taught me it is important to create the personality and to try to combine a few autosports together.
MT: My goal is to be in the World Rally Championship. When I came to the UK I started a five-year plan and this is year three. Getting experience of the WRC is important for this year and then progress through the ranks to get to year five and be in the Super 2000 WRC or the Production Car WRC with plenty of experience.