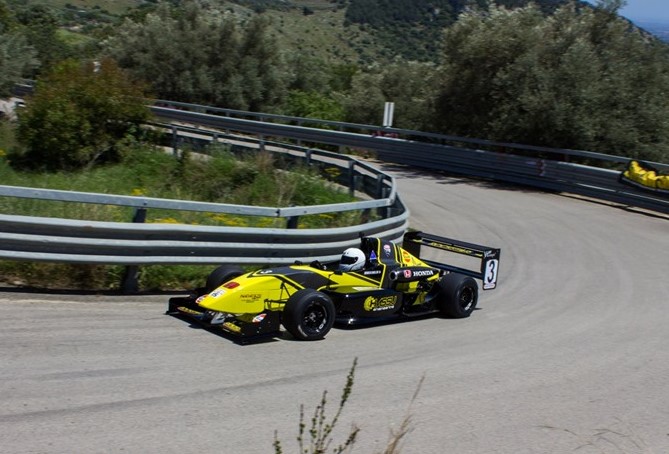 7 Maltese drivers participated with great success in the 35th edition of the famous 6km Val d'Anapo Sortino hill climb in Sicily last weekend.
The Maltese relationship with the Val d'Anapo Sortino event goes back almost 40 years when Joe Anastasi first participated in the event in 1980. More recently Mark Micallef and Noel Galea joined Anastasi to discover this beautiful and challenging hill in the Siracusano, but this year the number increased to 7, demonstrating the frustration of Maltese drivers with the local state of affairs.
The Italian championship hill climbs are run over 4 climbs, 2 practice climbs on Saturday, and 2 "race" runs on Sunday, with very rigid scrutineering taking place on the Friday. All 7 cars eventually got their "verificato" stickers, and were therefore all set to go on Saturday morning.
Overcast weather, and a "raw" track did not help to produce respectable practice times on the Saturday morning, and the weather turned even worse on Saturday afternoon, theoretically putting the Maltese runners at a bigger disadvantage, as it meant 1 less climb with which to acclimatize with the road.
Nevertheless Sunday dawned sunny, clear, and dry so all was good with the World again.
2 Maltese drivers competed in the E1 group. David Grech – Ford Escort 1400, in his first experience of the Italian hill climb scene finished a very respectable 4th in class with almost identical times on both his Sunday runs, the best time being 4.34.71.
Didier Bugeja – Peugeot 106, was the 2nd Maltese driver in the E1 group, also on his first visit to Sortino though not the Italian hill climb scene. In an extremely competitive class Didier finished an excellent 3rd with a superb time of 3.58.77.
The E2SH group for "silhouette" cars follows, and here again Malta was represented by 2 drivers, both with previous experience of the hill. Joe Anastasi drove his faithful Mini Cooper 1500 to another class win in the 1600 class with a best time of 4.15.54, and Noel Galea put in an excellent time of 3.52.91 with his 2 litre Ford Escort to win not only his class but also the E2SH group.
The 3 remaining Maltese drivers all competed in the same E2SS (Single seater) group and 2 litre class. All three were newcomers to the very technical and difficult hill, yet all performed excellently. Fastest of the 3, and class winner was Darren Camilleri driving his Tatuus Honda 2000, with an excellent best time of 3.40.31, but very close on his heels was Chris Xuereb – Dallara Opel 2000 with a time of 3.42.56 in 2nd place. Ian Galea 0 Argo Honda 2000 was not so lucky. After a promising run in Saturday practice Ian had to retire his car on Sunday with a niggly mechanical problem.
At the presentation of awards on Sunday evening, and also in the Italian motor sport press, Italian journalists and officials had nothing but praise for the Maltese team, who they said were an example of sportsmanship and good behaviour.
The next hill climb in Sicily to attract Maltese participation is the Giarre Montesalice Milo hill climb on the Eastern side of Mount Etna towards the end of June.