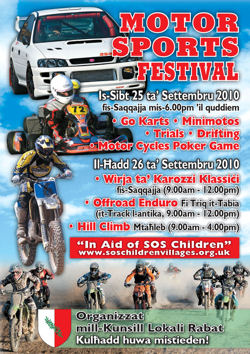 During a press conference held last week, Mayor Sandro Craus of Rabat Local Council stated that the Rabat Local Council is organising a Motor Sport Festival to be held on Saturday 25th and Sunday 26th September 2010.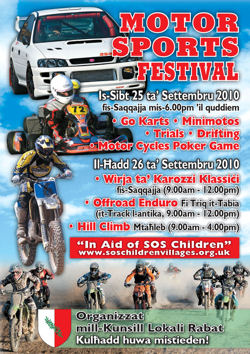 Mr Craus thanked all those Rabat Volunteers who helped the council to organise this event. Mr Craus thanked all participating clubs who will be performing during this Festival and in particular the Island Car Club for their help to bring the Mtahleb Road ready to host a Hill Climb.
The President of the Malta Motorsport Federation, Mr. Tonio Cini thanked also those Motorsport Enthusiasts, who most of them are from Rabat, who took the initiative together with the Local Council to organise the Motorsport Festival and thanked Mayor Sandro Craus and his team at the local council for hosting such an important event and for the support his Council is giving to motorsport.
Mr. Cini went on stating that the Federation welcomed this joint support that the local council and the Island Car Club have embarked on, to repair and uplift Imtahleb road to levels acceptable to host a Hill Climb racing event, after more than 13 years of absence.  With such repairs at Mtahleb, the country could enjoy foreign particiaption from this new niche in sports tourism in the automobile sector. On the other hand Mayor Sandro Craus announced that by the end of this week all work being undertaken at Mtahleb will be ready in time for the much anticipated Hill Climb at the end of this week.
On Saturday 25th, the Motorsport Festival will commence at 6pm with Karting, Mini Motos, and drifting shows along with a static show by several motoring clubs. Furthermore, an interesting poker game with motorbikes will be held from Saqqajja where motorcyclists need to collect a playing card from five different localities around Malta and the one who gets the poker at the end wins.
On Sunday 26th, the events will commence at 9am in three different locations around Rabat, a Static Show at Saqqajja, an Enduro racing event at the old enduro track underneath Imtarfa finishing at 12pm and the Hill Climb racing event at Imtahleb finishing at 4pm.
Mayor Craus and President Cini stated that this activity is being organised to raise money for SOS Children's Villages, an international organization which is active in 132 countries and territories worldwide helping orphans and abandoned children. Presently SOS Children's Villages is helping out in Pakistan since they have recently suffered a tsunami which left several children homeless and orphans. SOS Children is calling for our support to help these children who desperately need supplies and medicine. Those who wish to donate some money for this cause, are urged to use the following link :- http://www.justgiving.com/jeanz