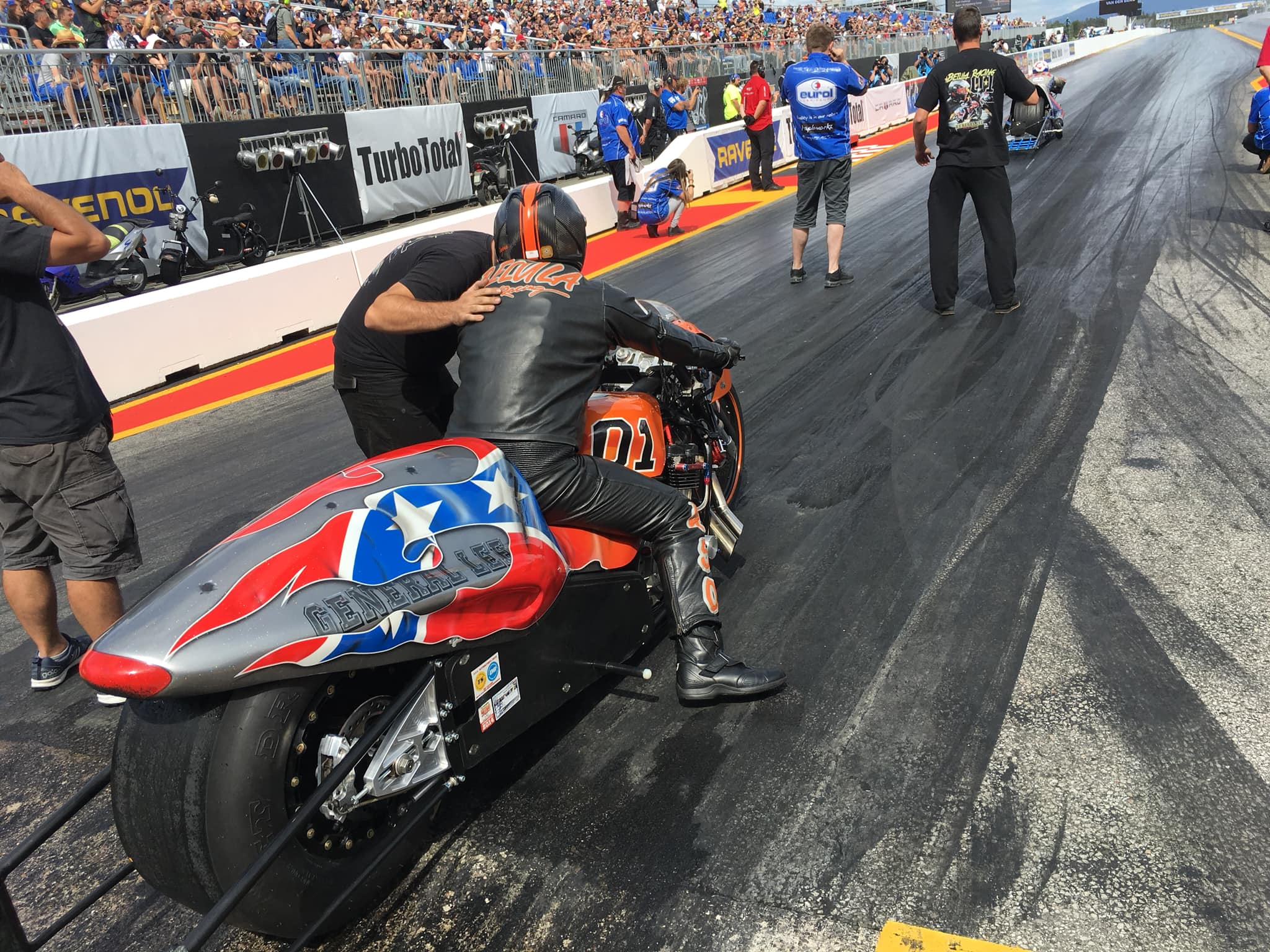 Last weekend Maltese Top Fuel Bike Drag Racing Driver Glenn Borg competed at the NitroLympix at Hockenheim in Germany, this was also another round of the European Championship of the International Motorcycling Federation.
Borg finished this adventure in position 3 in his class. The best elapsed time for Borg was that of 6.538 seconds, a top speed of 204.85 miles per hour and the best reaction time on the lights was that on .062 of a second.
Local Maltese bike builder and engine tuner Simon Giordmaina was also in Germany responsible for the bike of the Italian team Carbonera Racing Team, the bike was driven by Rudi Zorzi
Both Borg and Giordmaina are expected to be at Santa Pod in the United Kingdom, between the 5th and the 8th of September for the European Finals.
Is-sewwieq tal-muturi Glenn Borg, fi tmiem il-Ġimgħa li għaddha ikkompeta ġewwa Hockenheim fil-Ġermanja f'avveniment bl-isem ta NitroLympix. Dan kien rawnd ieħor mill-kampjonat Ewropew tal-Federazzjoni Internazzjonali tal-Muturi.
Borg spiċċa dan l-avveniment fit-tielet post tal-klassi tiegħu li hija magħrufa bħalha FIM Top Fuel Bike. Din hija l-aktar klassi veloċi. L-aħjar ħin li-għamel Borg kien dak ta 6.538 sekondi, l-aħjar veloċita kienet ta 329.68 kilometri jew 204.85 mil fis-siegħa u l-aħjar reazzjoni fuq id-dawl kienet dik ta .062 ta sekonda.
Malti iehor li kien impenjat ġewwa il-Ġermanja huwa Simon Giordmaina li kien impenjat bil-bini u issetjar tal-mutur u tal-magna tat-tim Taljan Carbonera Racing Team, bil-mutur jkun misjuq minn Rudi Zorzi.
L-avventura li jmiss għal-Borg u għall-Giordmaina ser tkun fil-finali tal-kampjonat Ewropew ġewwa Santa Pod fl-Ingilterra bejn il-5 u it-8 ta Settembru.